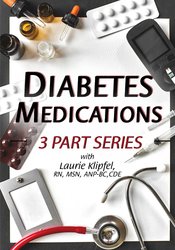 Package -Video
$179.97 USD
$149.99 USD
Printable Order Form
Diabetes Medications
3 Part Series
[+]
[-]
Diabetic Medications Part 1
You know that uncontrolled diabetes can lead to many serious complications, such as heart attacks, strokes, kidney failure, amputations and even death. But are you struggling to keep up with the volume of oral medications available to treat your patients with diabetes? Do you wonder if you have chosen the option that is for your patient? The pathophysiology in diabetes is very complicated and the recommendations are continuously evolving making it difficult to keep up with the changes. In this program Laurie Klipfel, RN, MSN, ANP-BC, CDE will provide you with practical solutions, tips and tools you can use to ensure your medication choices are correct and that you improve the outcomes of the patients you care for.
[+]
[-]
Diabetes Medications Part 2
Regardless of your setting you are caring for patients with diabetes that are prescribed insulin and as people are living longer, more eventually will need supplemental insulin. Insulin is vital for life, but can be dangerous or even fatal when administered incorrectly. It is vital that health care providers are familiar with optimum insulins, insulin doses and timing for the best outcomes. In this program Laurie Klipfel, RN, MSN, APN-BC, CDE, will provide you with the MUST know information you need to provide the best care to your patients.
[+]
[-]
Diabetes Medications Part 3
An increasingly large number of patients with diabetes means more insulin pumps are being utilized and drug therapy continues to become complex and often difficult to understand. Incretin mimetics can improve glucose control with a decreased amount of insulin. When used appropriately this can decrease weight and decrease risk of complications from diabetes. Insulin pumps can improve not only blood sugars but quality of life. Becoming familiar with both non-insulin injected medication and insulin pumps is vital for all health care providers. In this program Laurie Klipfel, RN, MSN, APN-BC, CDE, will guide you through the treatment options and make the difficult concepts easy to understand and apply in clinical practice.