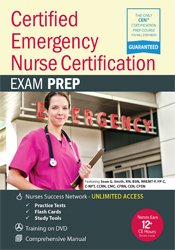 Institutional
$3,000.00 USD
Printable Order Form
Certified Emergency Nurse Certification - CEN®
Exam Prep Package with Practice Test & NSN Access
[+]
[-]
CEN Video Access - Nurses Success Network (NSN)
[+]
[-]
Certified Emergency Nurse Certification CEN®:
Prepare to pass the Certified Emergency Nurse (CEN®) exam -- the first time!


Trauma Management
Triage: Strategies to Improve Outcomes
Comprehensive Review of Conditions by Body System
Professional & Ethical Issues in Emergency Nursing
Successful Test-Taking Strategies
This comprehensive CEN exam preparation course offers the latest information and trends in emergency room nursing. An in-depth review of systems and refresher on current practices will prepare you for success by not just reviewing key points, but also reinforcing them through realistic test questions! The CEN exam prep covers all clinical and professional issues per the current exam blueprint, plus you'll gain valuable test-taking strategies and tips that are certain to aid in your quest for success on the Certified Emergency Nurse exam!
Join expert speaker and certification coach, Sean G. Smith, RN, BSN, NREMT-P, FP-C, C-NPT, CCRN, CMC, CFRN, CEN, CPEN, for this dynamic session that will increase not only your emergency nursing knowledge, but also your earning power and employment opportunities.
Why do you need an institutional product for your organization?
The Institutional package includes the same great quality as our individual programs, with one huge difference: it gives you the ability to educate an unlimited number of users within your institution.
You may load the product onto your company intranet for easy access, for staff members' to view at any time convenient with their schedules.
The institutional package includes PDF documents consisting of: seminar manual and Continuing Education request form, when applicable.
This option is cost effective-at one low price, and renewable annually.
If your goal is to provide quality education for all staff members, then look no further!

Your Site License
With an institutional-use version, you get a "site license" allowing your institution to use the materials as much as you need them. You can make additional workbooks or even post all the materials on your intranet for staff to access. When you buy the institutional-use version, you obtain the license to use the program for an unlimited number of users (within one facility) as you wish* for a period of one year. Site license renewals are available. *By purchasing the institutional-use version, you do not assume copyright of the materials. The materials remain the copyrighted property of PESI and may not be edited, distributed to other facilities (even if they are in your organizations network), or sold for profit in any form. Illegally copying or distributing the materials is restricted by copyright law and prevented by your integrity.


Certification Exam Prep Package Includes:
Seminar video on DVD (12 hours, 20 minutes of review)
Comprehensive seminar manual (PDF format)
One membership to the Nurses Success Network for additional study tools
Online Practice Tests to assess your readiness to sit for the actual exam
Flash cards to help with memorization of important facts (PDF download)
Plus dozens of links for further reference